Categories:

MERCH
/

Postet on:

2020.10.09
PUMA x PAC-MAN 40th Anniversary co-branded sneaker produced by COURIR
In 1980, the same year as the launch of PAC-MAN, the French sport retailer COURIR was created.
To celebrate their 40th Anniversaries together, COURIR has joined forces with PAC-MAN and PUMA for a modern reinterpretation of one of PUMA's iconic sneakers: the "Ralph Sampson".
This unisex pair of sneakers was designed in collaboration with Sébastien Abdelhamid, an influential French figure in the world of video games and journalism.
All the distinctive elements of the PAC-MAN universe are featured on the famous "Ralph Sampson" shoes. The sneakers showcase blue stitching alluding to the in-game maze and colorful eyelets, soles, and lace tips to reflect the game's graphics. Just like the game, these sneakers were designed to be pure fun.
You can also play with the Velcro PAC-MAN and Ghosts patches to create the PAC-MAN universe on your shoes. The style possibilities are endless!
The sneaker's box has also been redesigned within the color scheme of the collaboration.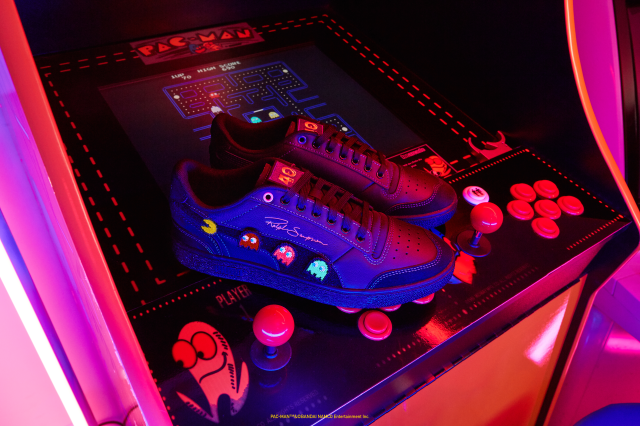 For more information, please check here!