Categories:

MERCH
/

Postet on:

2020.05.22
Selected tracks from the PAC-MAN 40th ANNIVERSARY compilation album are digitally released in advance.
A compilation album that celebrated the 40th anniversary of Pac-Man's birthday will be released in the fall of 2020!
The album will include [JOIN THE PAC], the official theme song for the 40th anniversary by world-renowned techno artist Ken Ishii, as well as a collection of songs based on the Pac-Man sound by artists active in various scenes in Japan and abroad.
The jacket artwork was designed by The Designers Republic™, a UK-based group known for their artwork with Warp Records, Aphex Twin, and others, and mastered by Yoshinori Sunahara, who was a member of Denki Groove from 1991 to 1999 and is now highly regarded not only as an artist but also as an engineer. The CD will be joined by more famous artists from around the world to celebrate Pac-Man's 40th anniversary with their sound of music!
Also, before the CD release, the split singles of the participating artists will be available for pre-release as follows.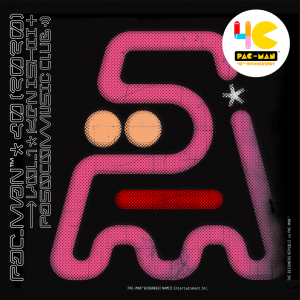 [Pre-Digital-Release] PAC-MAN 40th ANNIVERSARY COLLABORATION vol.1
Start of release on May 22, 2020
Single song release price ¥255 JPY (tax included)
Album release price ¥611 JPY (tax included)
*There is a possibility that the release price will be changed depending on the release site.
Songs included:
KEN ISHII [JOIN THE PAC (Original Mix – Official Theme Song for PAC-MAN 40th Anniversary)]
KEN ISHII [Infiltrate The PAC]
PASOCOM MUSIC CLUB [EAT & RUN]
Release Link: https://linkco.re/4BzGR0EG
[JOIN THE PAC (Official Theme Song for PAC-MAN 40th Anniversary)] MUSIC VIDEO

[Pre-Digital-Release] PAC-MAN 40th ANNIVERSARY COLLABORATION vol.2
Start of release on June 24, 2020.
Artists: sasakure.UK / Takeshi Nakatsuka
[Pre-Digital-Release] PAC-MAN 40th ANNIVERSARY COLLABORATION vol.3
Start of release on July 24, 2020.
Artists: Buffalo Daughter / DiAN (Seidenba Saku, A-bee, immi)
For more details: http://www.umaa.net/news/p1034.html