Categories:

OTHER
/

Postet on:

2020.12.25
New Music Video from PAC-MAN 40th Anniversary Album!
The full-size music video for "饕餮 TAOTIE feat. 小老虎 (J-Fever)" by DiAN (Shizudenba Saku, A-bee, immi), from the music compilation album [JOIN THE PAC – PAC-MAN 40th ANNIVERSARY ALBUM -] is now available!
PAC-MAN game sounds and unique artists have collaborated in this album.
The theme of the video is "吃" (chi) = "eat".
It's based on the theme of PAC-MAN as a "饕餮 (Tao Tie)", a gluttonous monster known in Chinese mythology.
The performance is expressed in the world of PAC-MAN in a Chinese and Oriental way.
DiAN is a group consisting of 'Saku' (Vocal, Lyrics, Art Direction), 'A-bee' (Sound Producer), and 'immi '(Composer, Lyrics, Chorus).
Born in Beijing, China, 'Saku' was deeply influenced by the diverse cultures of the United States, Europe, the Middle East, and Africa. After graduating from the National Communication University of China, a leading Chinese university for broadcasting and media, she moved to Tokyo. There, she became a multi-creator producing a variety of contents including design and video and an influencer with over 600,000 followers on Weibo (China's largest social networking site.)
'A-bee' is a sound producer who creates lyrical yet meticulously crafted sounds based on electronic music. He is active in a wide variety of fields, including J-pop, anime, video games, commercials, and radio.
'immi' is a singer-songwriter who has released several works internationally under a major label. She currently works as a composer, providing a variety of music to other artists.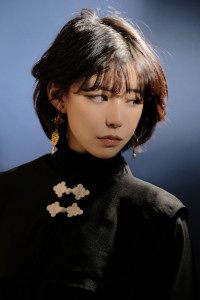 A fusion of subcultures and talents developed in Japan and China, this group embodies a new style of Asian music and pop culture.
[JOIN THE PAC – PAC-MAN 40th ANNIVERSARY ALBUM -] includes "饕餮 TAOTIE feat. 小老虎 (J-Fever)" as well as an electro-disco cover of "PAC-MAN Fever," which was created in response to the unprecedented boom of PAC-MAN in the U.S. in 1980 and became a No. 9 hits in the U.S.
<CD Album Information>
Release date: October 28, 2020
Title: JOIN THE PAC – PAC-MAN 40th ANNIVERSARY ALBUM –
Price: 3,000 JPY without tax
Part Number: UMA-1137-1138
Booklet: Includes a history of PAC-MAN by game writer Rolling Uchizawa.
https://www.amazon.co.jp/dp/B08GVCCW88/ref=cm_sw_r_tw_dp_x_xN.4FbXDPJWAQ
Digital streaming is now available!
"PAC-MAN 40th ANNIVERSARY COLLABORATION vol.3"
01. Buffalo Daughter "Dots In The Maze"
02. DiAN (Seidenba Saku, A-bee, immi) feat. 小老虎 (J-Fever) "饕餮 TAOTIE"
03. DiAN (Seidenba Saku, A-bee, immi) "PAC-MAN Fever"
https://linkco.re/M1xfS7U1
For further information, please click here!