Categories:

MERCH
/

Postet on:

2021.01.29
PAC-MAN: Birth of an Icon, The First-Ever Official History Book on PAC-MAN is Now Available For Pre-Order.
Cook and Becker is proud to announce its gorgeous, hardcover retrospective, the first-ever history of PAC-MAN. The book, PAC-MAN: Birth of an Icon, is available for pre-order from January 28, 2021.
PAC-MAN: Birth of an Icon is made in conjunction with BANDAI NAMCO Entertainment and researched and written by Arjan Terpstra and Tim Lapetino. It is the first book detailing the birth, rise, and explosion of one of the video game industry's most famous characters. It delves deep into PAC-MAN's origins as a video game, cultural touchstone, and pop culture juggernaut.
This new non-fiction narrative volume will journey from creator Toru Iwatani's "pizza slice" inspiration to the game's incredible success in arcades and beyond. The book also dives into PAC-MAN's unprecedented impact on pop culture, with more than 40 new interviews from key players around the world, behind-the-scenes stories, documents, images, and more. With untold stories, new details, and archival imagery, PAC-MAN: Birth of an Icon showcases the franchise's complex history from Tokyo to Chicago to Boston, unpacking the stories of video game industry stalwarts Namco and Midway Manufacturing.
Full of historical imagery, concept designs, marketing photos and more, the book will examine the game's design philosophy and origins through the artists, designers, developers, and other creative teams who brought PAC-MAN to life.
"I'm thrilled to share the work we've done in digging deep into the history of PAC-MAN," said co-author Arjan Terpstra. "We were given access to many of the original Namco team members who made the game what it is, and I'm excited to tell their stories. Whether you're into video game history, art, or just the stories behind pop culture, there will be something in this book for you."
"The history of PAC-MAN is also the history of the golden age of video games," remarked co-author Tim Lapetino. " PAC-MAN's origins also happen to run through my hometown of Chicago, and I'm very excited to be able to tell some of the stories that have been hidden until now. It's about time to shed light on what PAC-MAN and its creators have meant to video games and the larger entertainment landscape."
Initial pre-orders are available exclusively from Cook and Becker publishers, through their website :https://www.cookandbecker.com/en/artwork/3012/pac-man-birth-of-an-icon-pac-man-bandai-namco.html
The estimated release date for PAC-MAN: Birth of an Icon is summer 2021.
Editions:
PAC-MAN: Birth of an Icon will be available in three separate editions: The Standard hardcover edition, a limited Collector's Edition, and an even more limited Collector's Edition signed by PAC-MAN creator Toru Iwatani.
▼Standard Hardcover Edition:
Contains the complete PAC-MAN: Birth of an Icon book, weighing in at 300+ pages of full-color history, design, and imagery. It also contains a fascinating bonus text, the first English-language translation of PAC-MAN creator Toru Iwatani's memoir, PAC-MAN's Method.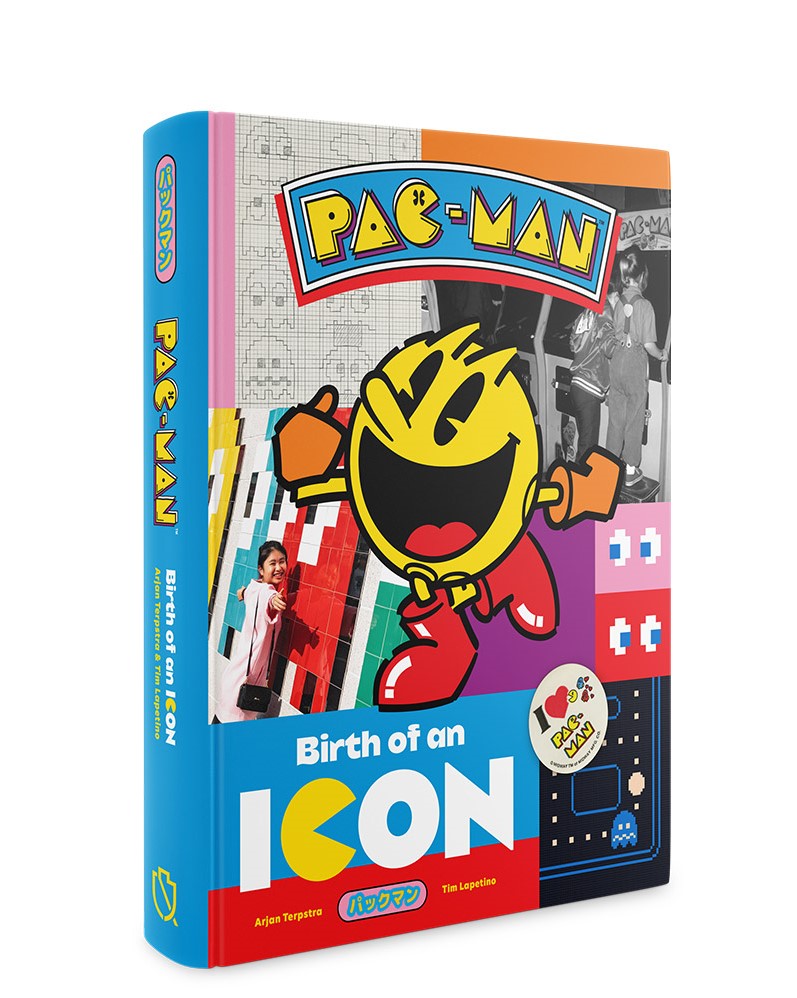 Price: USD 39 / EUR 39.
▼Collector's Edition:
In addition to the Standard Hardcover book, this edition comes complete in a beautiful box and slipcase, celebrating the visual history of PAC-MAN. It also includes a set of two (2) limited-edition fine art prints, an exclusive PAC-MAN arcade token, and a brand-new 7" vinyl pressing of the 1981 smash hit " PAC-MAN Fever" by Buckner & Garcia!
Price: USD 99 / EUR 99.
▼Collector's Edition (signed)
In addition to everything included in the Collector's Edition, this version is personally signed by PAC-MAN creator Toru Iwatani. This incredibly small run will be limited to forty (40) copies.
Price: USD 299 / EUR 299.
PAC-MAN: Birth of an Icon is officially licensed by Bandai Namco Entertainment.
About the authors:
PAC-MAN: Birth of an Icon is written by Arjan Terpstra and Tim Lapetino, with editorial and research assistance from Katsuaki Kato. Terpstra is a historian and former game journalist, and author of Sonic the Hedgehog 25th Anniversary Art and Design, FINAL FANTASY XV Art and Design, and Killzone Visual Design. Tim Lapetino is a writer, creative director, and pop culture historian–author of the best-selling Art of Atari and Damn Good: Top Designers Discuss Their All-Time Favorite Projects, and editor of Undisputed Street Fighter and the upcoming Sky Captain and the Art of Tomorrow. Katsuaki Kato is the former editor-in-chief of Famitsu Weekly, Japan's leading magazine on video games and games culture.
About the publisher:
Cook and Becker is a leading publisher of video game art, design and history books, and serves as an online gallery for limited edition video game fine art prints.
For more information and imagery, please reach out. Both our writers are available for interviews.