Categories:

MERCH
/

Postet on:

2020.04.21
PAC-MAN Ghost Light by PALADONE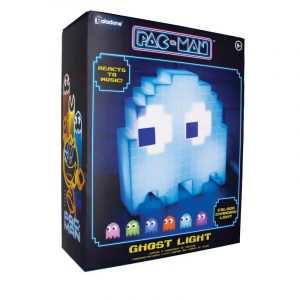 The PAC-MAN Ghost Light is a colour changing mood light with two different modes to choose from.
The standard mode will see the light phase through 16 different colours on repeat. Enabling the 'Party Mode' switch on the back will allow the light to change colour in time to music with an adjustable sensitivity dial making it possible to alter the setting for better reactions to loud or quiet music. (Please note the PAC-MAN Ghost Light does not play or conduct music, but reacts to music from an external source.)
The light comes with a micro USB cable, and can be powered by connecting to any standard USB port in a laptop or mains adapter.
For more information!